He gained fame in 2008. However, rumor has it that some surfers from South Africa, including Grant "Twiggy" Baker, started skating there several years earlier.
SPECIFICATIONS OF SKELETON BAY SPOT
Wave Type: Left Point Break
Location: Skeleton Coast, Namibia, Southwest Africa
Season: All year-round, but the best season is during the European summer
Bottom: sand
Ebb/flow: any water level
Weather: Namibia has a desert climate with very sharp variations between day and night temperatures. So, it can be pretty hot during the day – from 27 to 35 degrees Celsius.
But don't worry, the strong sea breeze won't let you die from the heat. But in the evening it gets freezing – the temperature can reach 0 degrees! It is foggy for 340 days a year in the mornings.
You will need a 3/2 wetsuit from December to April and 4/3 with boots from May to November.
Swell: West, Southwest, South
Wind: South or south-west
Wavelength: 300 meters to 2 kilometers
Wave height: from 1 to 3.5 meters
Why ride: Considered the longest and best left-hand wave in the world. So it is pretty normal to leave six pipes on the same wavelength here.
STORY
The prize for the best find was a trip to this place with Corey Lopez, Peter Mendia, Hank Gaskell, and Mitch Colebourne.
So, the resulting trip blew the head of the entire surf community! Skeleton Bay turned out to be such perfect waves that young surfers draw in their school notebooks!
This wave was not always there and only appeared in the late seventies when the prevailing southerly winds in Namibia changed direction by 20 degrees, which altered the direction of coastal currents and the movement of sand on the bottom.
The result of all this was a sand wash, in which sand began to collect, forming the incredibly long wave that we see today.
HOW TO GET TO SKELETON BAY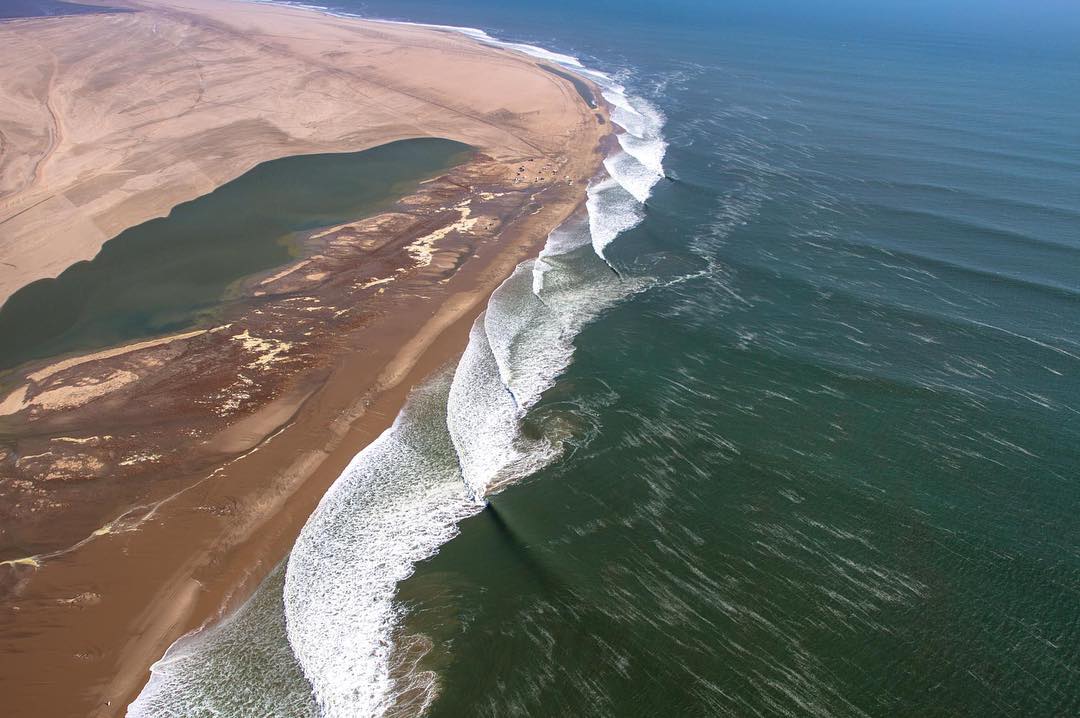 The spot is located on Namibia's remote and inhospitable coast called the Skeleton Coast.
There are very few options for staying there: either a tent on the beach, a floor near the locals in the house, or a guesthouse with Spartan conditions.
It is best to hire a guide to take you to the waves. Ideal – a guide with an off-road vehicle! In addition to surfing, there is nothing to do there.
Is that looking at the waves or watching seals, hyenas, and coyotes, sitting around the fire, resting before the next fiery day.
When the wind and waves are perfect, your feet should be ready for it. Forget turns and tricks here – there are only pipes in Skeleton Bay!
The wave is no doubt only suitable for experienced riders. Aside from the speed of the waves and pipes, there are powerful currents here, as in most spots in Namibia.
Also, be prepared for long walks back to the starting point. So, for example, in a day in a wheelchair, you can easily walk up to 20-30 kilometers, returning after passing.
Local surfers are now supporting an initiative called "No Jeep Riding Back to the Peak." It is, in fact, a correct movement.
You can easily imagine how funded by sponsor money professionals will pass by in SUVs while you wander on foot on the sand.
In general, if you ever get there, it will be a trip of your whole life. If, of course, you know how to ride in pipes well enough 🙂
The very winds that helped form this wave can also become the reason for its disappearance.