It is believed that skateboarding was invented by surfers so that there is something to ride on while there are no waves.
It is an independent discipline and a separate sport, but surfing remains.
Surfers skate not only when there are no waves but also where there are simply no waves, and in addition to surfing.
Moreover, now on the market, there are unique surfboards that perfectly imitate surfboards: to ride, you need to move on them just like on a wave. It, firstly, allows you to get similar sensations and pleasure, and secondly, to pump the technique so that later you can progress faster on the waves.
I have a friend Vova, a surf trainer and skateboarder with almost 20 years of experience. He's also a great surf skate specialist.
So I asked him to tell me about the features of these boards and how to start riding them.
Vova's story
I managed to be born in the hero-city of Leningrad in 1990, and a year later, it became St. Petersburg.
I started skating when I was 11, and skateboarding eventually led me to surf.
Not that we were taught skateboarding at school or read it in the library, but even in the years before the Internet, all skaters knew surfers invented that skate, surfing is the origins, from which it was always drawn to it.
I wanted to go to the ocean, but it's not easy when you are 11 and live in Russia.
I managed to get to Bali in 2012; I was then studying at the university, I loved to hang out, so surfing on that visit did not work out very well.
I tried to swim out on a friend's board, floundered about something, and, naturally, did not understand anything.
But I met many cool guys who lived in Bali, so I wanted to return longer when leaving. After a while, he flew to Bali without a return ticket and spent almost a year here.
It's a classic pro-rider story – I'm like an excellent skater, I go out on a snowboard, I always grabbed everything on the fly, and the buzz immediately appeared, so I was sure that everything would work out quickly with surfing.
But it was not there. It was hard for me to go to a surf school because I met guys who said: "I've been skating for three months now and have been teaching in such and such a school."
Then you immediately think, well, what will you teach me? You have been skating for three months.
As a result, he did many things wrong, but he rested his horn and butted. In the end, of course, I got out, but it cost me a year of my life instead of two weeks.
Then he flew to Russia for a year and, returning to Bali, began to approach surfing more seriously, study theory, listen to coaches, and take a longer board.
In general, I started hanging out less and skated more.
Then, in 2015, he started working part-time at the TakeOff surf school as an assistant coach, or as we call it, a push trainer.
I watched the guys teach, gained experience, and after a few months, I became an instructor myself.
Anatomy of a surf skate
Soundboard
The deck can be classic sandpaper coating or bamboo or wooden with a glass dusting.
Sandpaper doesn't look as cool as bamboo, and it holds better, but not as much as it loses outwardly.
It is essential to understand that both will die if you ride on a dusty road and step into puddles, although the glass is faster.
It is advisable to have a small kicker on the deck of the surfboard to support the back leg. First of all, it is needed to feel the correctness of the stance.
When you ride, it is not always possible to see if your legs are correct, and the kicker allows you to show yourself on the sensations – if you felt the emphasis, it means that the back leg is in the right place. If not, twist it a little, moving it back.
Just like on a shortboard with a back mat: to bounce well, the foot should be directly on the tail and rest against the pad lifter with the outside.
The trick will not work one hundred percent on the surf and the skateboard if you do not put your feet correctly.
The kicker helps to feel that the foot is in the right place, plus during the maneuver, it holds the support so that the back leg does not slip.
Pendants
The most massive, central part is the trucks, bearings, and wheels are put on them and fastened with nuts.
A four-bolt platform secures the suspension to the deck. The central axle bolt is called the kingpin. Its angle determines how the rest travels when cornering.
A bushing is put on the kingpin – a soft shock-absorbing elastic band, which affects the rigidity and maneuverability of the resulting structure.
In general, there are quite a few pendants that imitate surfing. I tried all of them and chose two options for Roots.
It looks like the Terminator – bulky and complex – but it's incredible how it makes the skate look like a surf. You close your eyes, and it's as if on a wave.
A skate with this suspension is ideal for training and practicing maneuvers.
In general, when surfing became an Olympic sport, it automatically became a little nerdier, they began to treat it like physical education: I went for a drive in the morning, then went to the gym, then studied theory, and in the evening there was also chess to pump my brain like a Ukrainian boxing school, where athletes calculate integrals after training.
Here is a surf-skate with a Truster-1 suspension – this is just for those surfers who want to work out the mechanics of maneuvers on the shore.
The second option – the classic carver suspension – is suitable for a wider audience, those who want to ride around the city and get high.
It is also mobile and accelerates due to the pump, but at the same time, it is much more stable.
Wheels
Like longboards for riding on city streets, Surf skates have large wheels – 70-72 mm.
Everything is simple here; the more significant the wheel, the minor road unevenness you feel while driving.
Wheel softness affects the same way: the higher it is, the better the cushioning of the asphalt flaws.
In addition, softness is responsible for whether it is possible to put the board into a slide, that is, to make the wheel not spin but slide along the road.
The slide is made for a sharp drop in speed and just as a stylish maneuver when the rear suspension is "ripped off" by turning the board perpendicular to the direction of travel.
A similar element in surfing is snap or find-out.
Stiffness is determined by numbers with a mysterious unit of measurement A (Vova joked that this is ampersliding). The higher the number, the harder it is.
For example, 60A is soft, 80A is already quite hard. The 82A lets you slide on concrete and snap snaps in the surf tub when the rear suspension skids without breaking away from the asphalt.
Based on the request, you need to choose based on the proposal: if you want more control and grip and do not want to get into skids, but limit yourself to turns, then it is better to take soft wheels.
The best option is an average one, for example, 70A – these will slide off only on wet asphalt and are kept until victorious on dry pavement.
Then, if you want, you can buy stiffer wheels; it's like changing the fin on the board when you dashed off, learned how to make turns, and want to try something new.
How to start skating
First, get inspired.
Protection. In 2001, if you came in defense, you would be shocked that you are a mama's boy.
Three or four years ago, I went to a skate shop and bought protection—a birthday present for a friend.
And I met a friend there, a local skater, the owner of a skate park. He looked at me like I was a moron.
I explained that it was a sidekick.
But over time, when a person turns 30-35-40, it's not that it becomes stylish; it's pretty standard, just like in the ocean Panama and surf slippers.
But seriously, when you ride in a big pool, it is undoubtedly better to protect your knees and put on a helmet.
But if on a relaxed flat asphalt, just in denim jeans just in case.
Skate shoes are called sneakers.
Sneakers differ from sneakers because they do not have a heel for running; a flat sole reduces the risk of twisting your foot.
In light jogging shoes, you can land your foot slightly on edge and with a high probability of tucking your leg.
The foot is more likely to return to its normal position with a flat sole. Folding your ankle on a skateboard is crap; if you're worried, you can grab high-top sneakers and tighten the lacing tightly.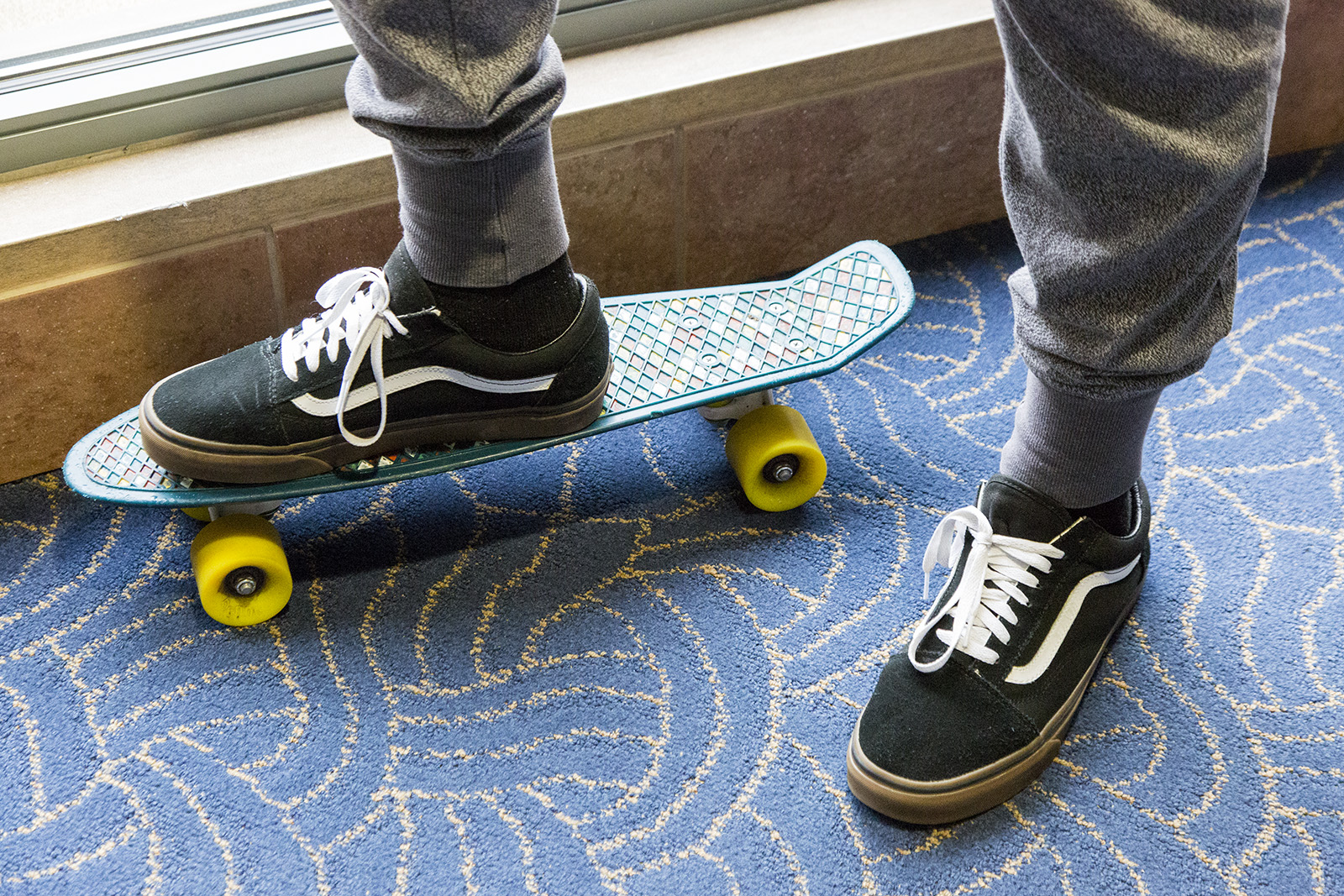 It is better to start riding on flat asphalt, a reasonably straight road. Park bike paths are ideal; they have a pleasant even surface.
It is generally excellent if the road has a slight slope, but you need 1-2 degrees, no more; otherwise, the board will accelerate too quickly.
Krasnaya Polyana has an ideal place to study – the Gazprom Embankment.
Parks and parking lots are suitable. However, it's not worth driving on the roads because control is usually lost at the most inopportune moment; the board flies under one car, the rider under another.
"It is better to ride where there are no cars, bikes, trains, ships, and planes."
Watch a couple of lessons and master the fundamental maneuvers.
After learning about flats, you can go to the skate park with figures.
For practicing surfing maneuvers, the surf bath, as I call it, is best suited. It is such a pool, very sloping on the one hand and steeper on the other, with a radius like a wave.
It turns out that one part simulates the wave wall, the other – a flat position in front of the wave.
It's just that when surfing, this flat part still moves and pushes; since the concrete is in place, a slight slope simulates this.
It turns out that on a skateboard, like on a surf, in this place, you can generate speed if you move correctly.
In addition, it is an excellent opportunity for wake surfers to save money – boat sessions are not cheap, but here you can work for free and then go to extinguish.
Where to ride?
I launched an entire search operation in the hope of giving you an impressive list of surf tubs for training, but it turned out that they are rare in Russia.
But there are good places to ride, tested, and approved by skaters.
Moscow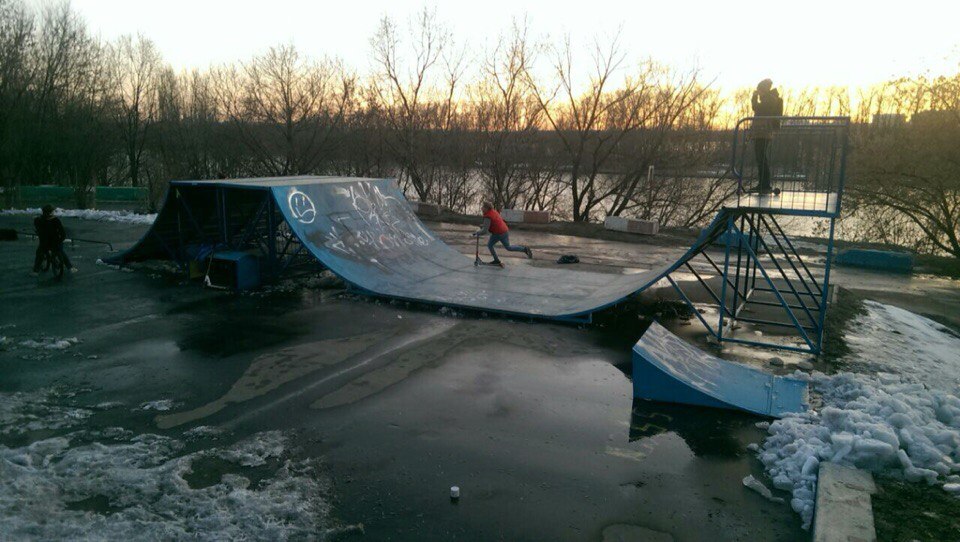 The same bowl is ideal for training, though made of plywood, but according to the norms. Free admission.
The guys built the same wooden wave at the DonSurf base. It is the first river wave in Russia for surfing, located 4 hours from Moscow.
The guys have houses where you can stay, board rental, and ski lessons.
A reasonably large concrete skate park with a pool, steps, handrails, edges, and other skating figures.
There is no skate wave, but there are similar small radii. Free admission.
The Concrete Park features a two-level bowl, a concrete mini-ramp, and paired street plazas.
The park is large and of high quality, in the center of the green zone of Lianozovsky Park. Free admission.
A pump track is a wavy line: up and down. On it, the legs and knees are pumped very steeply, the movement is trained, which can also be accelerated on the wave.
The skate park section has nice soft radii for surf skating. There is lighting for skiing in the evening.
Saint Petersburg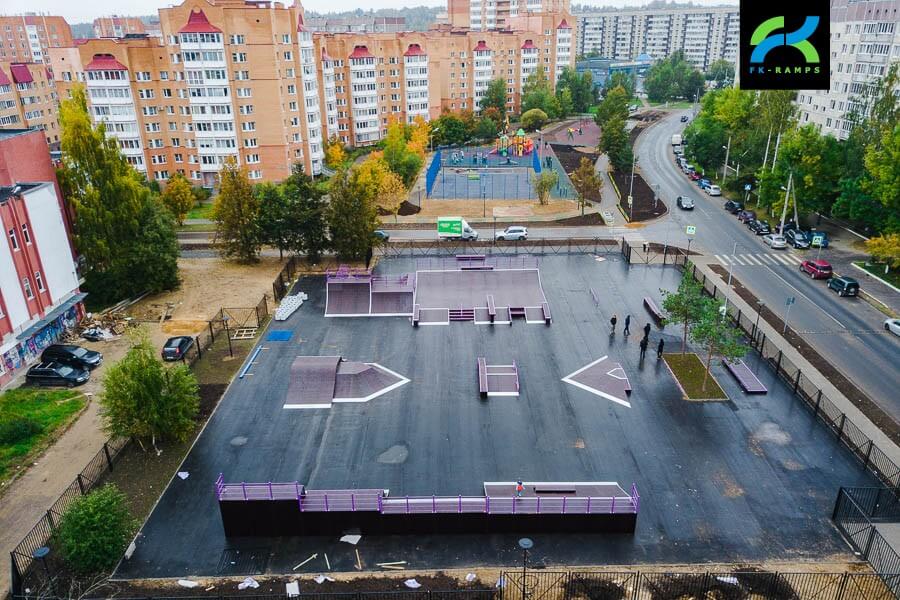 The most suitable park for surf skating is Peter. 4-5 flat vast sloping strides, on which you can do different tricks or turns, plus a wave for pumping and a pyramid for the same purposes.
Above the text, I mentioned the Gazprom embankment in Krasnaya Polyana; there is also an excellent open concrete skate park nearby.
In general, I was pleased that many guys from all over Russia responded to my call for help in finding skate baths.
It means that there is a sport, it lives and develops, which means that there will be more places for skiing!
I want to thank everyone who sent me photos and park locations for the help and, of course, Vova for a detailed excursion into the world of surf skates.